This easy and tasty recipe doesn't require any cooking since the raw meat is "cooked" by its marinade. Invented in the '50s by Giuseppe Cipriani, the renowned founder of Harry's Bar in Venice, it's named after the XVI century painter Vittorio Carpaccio, whose exhibition was happening in Venice when Cipriani created this dish for a Venetian countess.
Carpaccio can be made both with meat (beef sirloin or veal eye of round are ideal) or fish (tuna, halibut, swordfish) and its toppings vary from region to region: in Sicily it's served with capers, in Piedmont with shaved white truffle, a real delicacy.
I like it with veal because it's more delicate than beef, topped with Parmesan cheese and celery because these two tastes complement each other.
Carpaccio makes a very good appetizer or a light meal, if completed by a green salad and a warm starch, like potatoes or rice (see my Lemon Rice and Potato Salad recipes)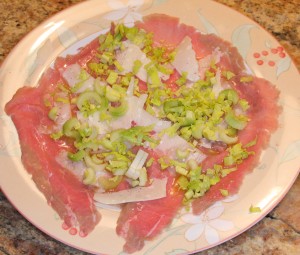 Ingredients:
(serves 4)  A  B  Gf
1 lb. of veal, sliced very thin
2 celery hearts
2 oz. of shaved Parmesan or Pecorino cheese
Marinade:
1 organic lemon, juiced
4 tablespoons of extra-virgin olive oil
Ground Himalayan salt
Fresh ground black pepper (to taste, optional)
Ask your butcher to slice the meat almost paper-thin or, if you have a meat slicer, slice the meat yourself.
Arrange the slices on the serving dishes.
In a small bowl, mix the marinade ingredients and pour it over the meat. Let the meat marinade for 10 minutes.
Meanwhile, remove the outer stalks from the celery and use only the tender central part. Wash it, pat it dry and cut it thinly. Arrange the celery on the meat, and lastly shave some Parmesan or Pecorino cheese.