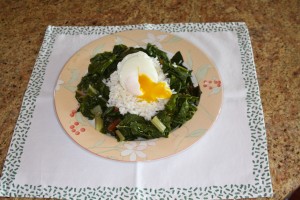 This simple and quick recipe combines all you need for a nutritious breakfast or a simple lunch:

a leafy green low in calories but high in Vitamin C, Vitamin K, and rich in minerals like copper, calcium, sodium, potassium, iron, manganese and phosphorus;
carbohydrates from the rice;
proteins from the egg.
I love this dish not only because of its beautiful combination of flavors, but also because the Vitamin C is a poweful antioxidant and the Vitamin K is well known for promoting bone formation and strengthening, making it ideal for middle-aged women (like me).
Ingredients:

(serves 2)  A  V  B  Gf
1 bunch of organic Swiss Chard
1 clove of garlic
3 Tbsp. Evoo
2 organic eggs
a few drops of vinegar
1 cup of white rice
1 tsp. of sea salt
Wash thoroughly the Swiss chard and chop it into small pieces.  Transfer it into a pot with 2 cups of water, boil it for 10 minutes, and drain it.
Cook the rice in salted water, until al dente (12-15 minutes) and keep it warm.
Meanwhile, warm up the Evoo in a pan, peel the garlic, halve it, remove its green core and sautè it for a couple of minutes into the warm Evoo. Remove the garlic and sautè the Swiss chard for 5-7 minutes.
In a small pot, bring 2 cups of water to a gentle boil. Lower the heat until the water is simmering. Add a few drops of vinegar and gently break one egg at a time into the water, making sure not to break them. Cook for four minutes.
While the eggs are cooking, divide the Swiss chard onto two serving plates, arranging it to form a ring. Place the rice in the center of the ring and, once they are ready, place one egg on top of the rice, one per plate.
Serve warm.