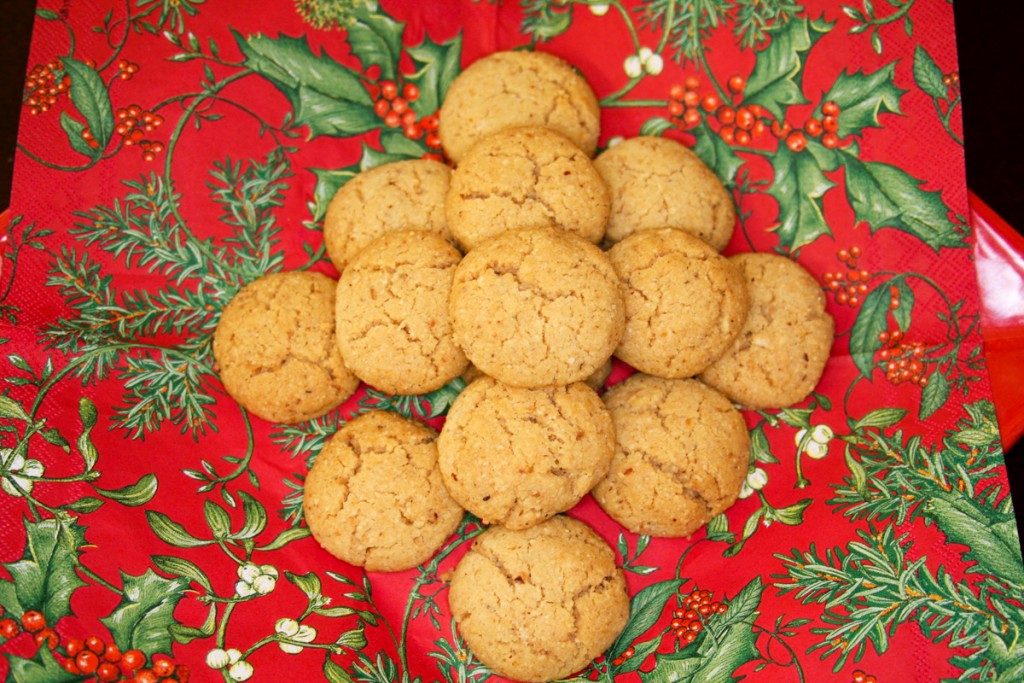 If you are looking for a new recipe to delight family and friends for the Holiday season, these cookies from the Piedmont region of Italy are simply irresistible. The Amaretti are a light end-of-dinner sweet, the perfect companions for tea or coffee, and make a great hostess gift for any occasion. While the typical amaretti found in stores are made with bitter almonds (hence the name that means "bitter cookies") these are made with hazelnuts that give these treats a sweeter, more delicate flavor.
The recipe comes from Piera Viarengo, owner/chef/director of "Il Fiordaliso" Bed & Breakfast in Azzano (Italy). With her passion for traditional Piedmont cuisine, organic wholesome food, kindness, attention to details, and a ton of hard work, Piera has created a small Heaven on the hills near Asti. The B&B is very tastefully appointed and welcoming, but it's the food that makes you wants to extend your stay. While Piera's breakfasts are always a pleasant surprise, her dinners are simply amazing. The fact that all the ingredients are seasonal, organic and come from the family farm would be enough to make the B&B cuisine tasty and enjoyable, but Piera's has the ability to transform them into uniquely delicious dishes. She comes to your table to describe each and every course she is serving, starting from the ingredients and their provenance.                                                  I suspect that Piera's gastronomic marvels come from an old notebook, inherited from her mother or grandmother, but I could bet that she knows most of the recipes by heart. When I asked her this recipe, she recited it like somebody else might recite the Holy Mary and with the same deference one says a prayer. She made sure that I wrote down the ingredient in a very precise order, which made replicating her recipe very easy.
Ingredients:
(serves 4)  F W  V 
2 cups all purpose flour
1 cup organic sugar
14 Tbsp (or 7 oz.) unsalted butter (like Kerrygold Irish butter)
2 cups hazelnut flour *
3 tsp. baking powder
* If you cannot find hazelnut flour, you can finely grind dry roasted, unsalted hazelnuts.
Preheat oven at 340 degrees F and line two large baking sheets with parchment paper. Melt the butter. In a large mixing bowl, combine all the ingredients to obtain a smooth dough. Take small amounts of dough and shape them into small balls (1/2 inch in diameter) with your fingertips.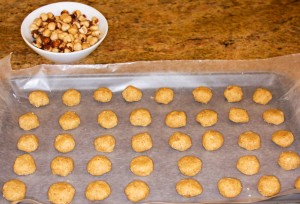 Transfer onto the parchment-lined baking sheets, leaving 1/2 inch between each line and each row to give the amaretti space to rise as they cook.  Bake for 18 to 20 minutes or until golden brown. Let cool at room temperature and enjoy.