Sometimes I crave for a dish that is completely out of season but so good that I have to make it, against my rule that all the ingredients should be seasonal.
It happened the other day, when I suddenly remembered the delicious recipe that a friend of mine had sent to me before Christmas. Caught in the Holidays rush, I had forgotten about it for weeks but, as soon as I remembered it, my mouth began watering at the idea of trying it before sharing it with you.
I must premise that, because of its history and location, Sicily has one of the best culinary traditions of Italy. Over the centuries, the island has been under Greek, Roman, Germanic, Byzantine, Arab, Norman, and even Spanish rule before it was annexed to the Kingdom of Italy in 1861. Each culture has left its footprint on the Sicilian gastronomy that, as a result, is a unique blend of exotic and traditional, local and foreign flavors.
Moreover, the island climate allows an incredible variety of crops, which vary from citruses, almonds, olives and pistachios along the coast to mushrooms and berries in the mountains; the Mediterranean seafood is outstanding but, as you move towards the interior, it's replaced by venison, meat and poultry cooked in distinctive ways, with unique combinations of ingredients. Then are the cheeses, the sweets, the preserves, and the strong wines …
Every bite makes you wonder how somebody came up with such a dizzying mixture of flavors in just one dish. It feels like each new invader wanted to add its own flavors to the local cuisine; then, over the centuries, nobody wanted to renounce to them and they all became part of the Sicilian cooking style.
In Sicily, every meal is a feast or, as a friend of mine likes to say, a challenge because you would like to eat everything.
Just read this recipe and you'll understand why I've classified it under the "indulgence" category. It's probably not strictly Biological, but certainly worth trying!

*Recipe by Letizia and Max Arcidiacono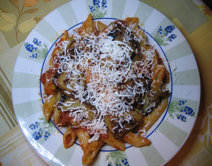 Ingredients:
(serves 4)  S  B  Gf (with rice pasta)
10 oz. of short pasta, preferably Penne
8 oz. of swordfish
½ yellow onion
10 oz .of organic tomato sauce (see my recipe)
1 mature red tomato red round onion
one medium round eggplant
6 Tbsp. of Evoo
1 cup of sunflower oil for frying
1/4 cup of sweet white
1 Tbsp. of chopped basil
1 Tbsp. of chopped parsley
1 oz. of grated Ricotta Salata cheese
Salt and black pepper Continue reading